Guests 2021
Meta Con features numerous guests from Television, Science Fiction, Anime, Video Games, and Comic Books. Guests appear at Q & A sessions, special panels and presentations, and autograph sessions throughout the weekend.
Please note that some guests may charge a small fee for autographs and pictures.
Chuck Huber
Chuck Hubers most recent anime roles are Android 17, Emperor Pilaf and Kibito in Dragon Ball Super, Kurogiri in My Hero Academia, Jajuka in Escaflowne, Kuro in Servamp, Kuniharu in The Disastrous Life of Saiki K, Asanaga in Endride, Kyūta's Father in The Boy and Beast, Tony Stark in Death Battle, and Jason the Toymaker in CreepyPasta. Chuck Huber started acting in Anime in DBZ. Since then he has voiced hundreds of characters including Hiei in YuYu Hakusho, Stein in Soul Eater, Kululu in Sgt. Frog, Mohji in One Piece, Shou Tucker in Full Metal Alchemist. He has been a writer on Hetalia, Sgt. Frog, Baccano, Spice and Wolf, Strike Witches, Dragonaut and Skip Beat!
Video games Chuck has contributed voices for include Borderlands II, Ghostbusters, The Walking Dead, Aeon Flux, DBZ, Smite, The Killing Floor… among others. As a filmmaker Chuck has acted, produced, written or directed for Arbor Day – The Musical currently on Amazon Prime, Prince Adventures, The Troubadoors, The Fragility of Seconds, The Mechanical Grave, Odd Man Out among others. He began acting in Chicago at the Goodman Theater, Court Theater, Steppenwolf Theater after graduating from DePaul University and continues to work on stages in the Dallas/Fort Worth area. He also plays Dr. McCoy in Star Trek Continues; Dean Hansen on Season 2 of American Crime on ABC and Detective Swinton in the The Harrowing.
Greg Ayres
Greg Ayres has been blasting his way through the universe! With over 290 credits to his name, he has managed to play a variety of characters that are almost as colorful as his hair. He was thrilled to make his second appearance in the DragonBall universe in DragonBall Super as Frost, and equally excited blasting bugs as Geo in Sony Picture's Starship Troopers : Traitor of Mars. Some other recent roles include Jiro in Concrete Revolutio, Sho Utsumi in SSSSGridman, Ryuuou Edogawa in Doreiku, Koji Koda in My Hero Academia, and even makes an appearance as Popuko in Pop Team Epic. He is proud to be a part of the new "Pink Harvest" productions for Sentai Filmworks, in the roles of Izumi Sena in Lovestage, and Yabase in Hitorijime My Hero. This year he was also given the opportunity to reprise one of his all time favorite roles as Son Goku in Saiyuki Reload Blast. Some other recent favorites include Nagisa Haruki in Free, and Free Eternal Summer, MonoKuma in Danganronpa, Clear in Dramatical Murder, and Doug in Gangsta, Yu Nishinoya in Haikyu, Zenji Marui in Food Wars, Ganta Igarashi in Deadman Wonderland, Heihachi Hayashida in Samurai 7, and Kouichi Sakakibara in Another. Some of his all-time favorite roles include Son Goku in Saiyuki, Chrono in Chrono Crusade, Kaoru Hitachiin in Ouran High School Host Club, Youhei Sunohara in Clannad, Yuki in The Wallflower, Leo in Ghost Stories, Satoshi Hiwatari in DNAngel, Kaworu Nagisa in the Director's Cut of Neon Genesis Evangelion, Tomoki Sakurai in Heaven's Lost Property, and Negi Springfield in Negima.
When he's not in a booth with headphones on, you can usually find him sporting headphones behind "the decks" at many a music event. A veteran nightclub DJ of many years, he has jumped at the opportunity to play music and organize late night dances at many of the conventions he attends. Greg is also a member of Project BECK, who perform music from the anime Beck Mongolian Chop Squad, and has had a blast reliving the music from that show with his friends. Thrilled to be able to share his love of music with anyone willing to listen – from packed rooms at anime conventions, to the legendary stage of The Knitting Factory (NYC), he's always ready to make a little noise.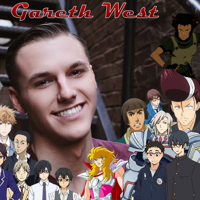 Gareth West
Gareth is an actor, model, and voice actor based out of Texas. He is known for such Anime roles as; Ittetsu Takeda in Haikyu, Seiya Takehaya in Tsurune, Kanichi Konishi in Food Wars, Haruka Shinozaki in My Girlfriend Is Shobitch, Lizard Misty in Saint Seiya, 2D in Golden Time, Akihiro Tsukaba in Chihayafuru, Tomoaki Yamagishi in O Maidens In Your Savage Season, and Dinkuron in Log Horizon. He is also currently playing the role of Jason Lee Scott the Red Power Ranger in the upcoming release Red Rising: A Power Rangers Fan Film. When not making anime voices or acting, Gareth enjoys basically anything nerdy under the sun. So whatever it is you are into, chances are you can come up and geek out. Because there is nothing he likes more than getting enthusiastic, and making new friends!
Kevin Connolly
Kevin M Connolly is a classically trained actor who's VO career includes dubbing for anime and live action shows, video games, audio books, commercials and animation. He started in Texas working with FUNimation, Illumitoon Ent and ADV Films with shows including Case Closed, Gatchaman, Fullmetal Alchemist, Rumbling Hearts & more. In LA he has worked with Bang Zoom Ent, VSI and Dubbing Bros. on shows and games such as Sword Art Online, League of Legends, Gundam Build Divers Re:RISE, and Ace Combat 7. He also has been the voice for LEGO's Holiday commercial campaigns 2018/19 as well as co-starring on "LEGO Friends: Girls On A Mission" as Steve. Currently he can be heard as the narrator on "Welcome To Demon School" on Crunchyroll, with more projects coming in the future. Follow him on Instagram and Twitter @KevinMConnolly to find out more.
Kiba Walker
Kiba Walker is an actor and performer based out of Dallas, Texas. His most notable roles in anime, such as MY HERO ACADEMIA (Cider House Leader), SAINT SEIYA (Scylla Io), BLACK CLOVER (Paplo Espuma), SKATE-LEADING STARS (Irie), BACK ARROW (Gote), THE TITAN'S BRIDE (Caius Lao Bistail), HORIMIYA (Tanihara), JUNJI ITO COLLECTION (Tsukano), CELLS AT WORK!! (Mumps Virus), CAUTIOUS HERO (Kebono), KONO OTO TOMARE (Naoya), BOFURI (Christmas Rose), and CASE FILE NO.221 KABUKICHO (Diana). You can also hear his voice in FRUITS BASKET, RADIANT, ONE PIECE, TO LOVE RU, O MAIDENS IN YOUR SAVAGE SEASON, AKUDAMA DRIVE, and many more.
In video games, his voice can be heard in GENSHIN IMPACT (Xu Liushi/Wyratt/Zexuan), CAMP BUDDY (Keitaro/Yoshinori), FULL SERVICE (Sota), TO TRUST AN INCUBUS (Kenta), MISTER VERSATILE (Syd), EARTHLOCK (Amon/Gnart), POPUP DUNGEON (DJ Mute/Thrilla Killa/Centrian/Nunchaku Ninja/Tinkerer), SOMETHING IN THE DARK (Francis Hale/Father Karver), GYEE (Caius), and many others.
Kiba is also an ADR director and scriptwriter for Ascendent Animation, for which he is also the President and COO. His works include ISHIDA & ASAKURA and THE TITAN'S BRIDE. He also is a full-time drag performer, under the name SALEM MOON. You can follow him on Twitter at @justkibawalker or on Instagram at @kibathevoice or @salemmoondrag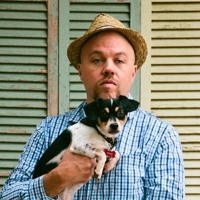 Tyler Walker
Tyler Walker is an ADR director, line producer, script writer and voice actor for FUNimation Entertainment. A native of East Texas, he grew up spending equal time playing in the woods, playing Atari, and watching cartoons like Scooby Doo, Superfriends, Star Blazers, and Battle of the Planets. After graduating from the University of North Texas with a BA in Radio, Television, and Film, he spent time playing in bands and eventually started working as an ADR engineer and production assistant at FUNimation in 2002. A bit of trivia: His former band, The Pointy Shoe Factory, had three songs featured in Dragon Ball Z Movie Eight: Broly, The Legendary Super Saiyan.
Since then, he has worked as ADR director on nearly one thousand episodes of such series as Baccano!, Toriko, Ghost Hunt, Basilisk, Black Cat, Samurai Warriors, Phantom: Requiem for the Phantom, Hell Girl, Is This a Zombie, Kado: The Right Answer, Tales of Zestiria, 91 Days, Dies Irae and King's Game. Currently, he's directing two simuldubs; Hakyu Hoshin Engi and Basilisk: Ouka Ninja Scroll. In addition to directing and producing, he has also written hundreds of scripts for titles such as Fairy Tail, One Piece, Bamboo Blade, Phantom: Requiem for the Phantom, Hero Tales, Shangri-La, Samurai Warriors, and both seasons of Is This A Zombie. When he's not at the FUNimation studios, Tyler plays drums and produces music for his bands, Wirewings and 100's. His wife, Heather, has appeared in several titles like Maken-Ki, Shangri-la, Fairy Tail, Toriko, and Overlord as well. Somehow they still find time to go play in the woods with their three dogs.
Heather Walker
Heather Walker loves the freaks, the geeks, and the oddballs. From birds and giant rats, to tortured mystical children and sexy nurses, she has played a wide variety of roles in her time as a voice actress. Whether she is screaming her head off for an entire scene or being innocently naughty, Heather loves extreme characters. Some of her roles include Hiruko from Shangri-La, Aki from Maken-Ki, the misunderstood villain Mary Hughes in Fairy Tail Rina in King's Game, "Wise King of the Forest" Hamsuke in Overlord and Zoe, the revolutionary girl, in the audio play Chimpanzee. She studied creative writing at the University of North Texas and besides voice acting, Heather is a writer, poet, birdwatcher, and environmentalist. So not only does she love voicing animals, she loves protecting them too.
V is for Villains
A new breed of entertainment. The intimate story. Epic visual stylings. That's what you're about to experience when getting ready for a V is for Villains concert. V is for Villains is a new breed of entertainment. Mixing the visual styles of Steampunk, Carnival and Noir, with the musical taste of Nine Inch Nails, Prodigy, and your favorite film score; V is for Villains will take you on a journey through the imagination that your mother couldn't prepare you for. Most groups often say that they intend for "world domination"… V is for Villains might actually mean it…
Quinton Flynn
Quinton Flynn is beloved globally as Axel/Lea from the Kingdom Hearts game series along with Raiden from Metal Gear Solid 2, 4 and Rising Revengeance (for which he received a Best Actor Award). Fans Love Flynn as: Kon – Bleach, Iruka Sensai – Naruto, Reno – Final Fantasy, Jhin – League of Legends, Timon – Timon & Pumbaa, and many others! Quinton's Classic Legacy Characters: Micky Mouse, Spider-Man, Venom, Human Torch, Jonny Quest, Gollum and too many others to list, feature in his solo stand up/improvisational Q&A panels which include celebrity impressions, song and audience participation.
Flynn seamlessly shape shifts from Silver The Hedgehog in the Sonic game series and as Dr. Krankcase – Skylanders: Trap Team, also lending his vocal gymnastics to – Star Wars: The Old Republic, Avatar The Last Airbender, Crash Bandicoot, Mass Effect, World of Warcraft, Batman Arkham City Origins, Lord Of the Rings and Pirates of the Caribbean. Coming Soon: his twisted IRISH Hitman Sir Henry Cooldown: No More Heroes 1, and 2, reappears in the 3rd installment (dropping in 2020). PLUS: Fan Favorite Sheldon Lee from My Life As A Teenage Robot is on the rise with an internet resurgence of interest in that Nickelodeon animated gem! So, Get In Like Flynn!
YTCracker
YTCracker is a rapper, former cracker, and Internet entrepreneur. YTCracker began producing rap music in 1998 in the genre that has since become known as nerdcore hip hop. YTCracker is a self-proclaimed "jack of all trades", also making a name for himself as a professional disc jockey, computer programmer, graphics designer and webmaster. His music covers everything from computer hacking to bitcoin. He has performed on legendary stages across the world in front of some of the largest crowd both as a DJ and as a lyricist, including events like the Consumer Electronics Show, MAGFest, SXSW and beyond.
Samurai Dan and Jillian
The husband and wife team of Daniel and Jillian Coglan are full-time martial art instructors, specializing in 16th century Samurai Arts. When not teaching at their dojo, the Kojokan, they travel the United States performing and teaching the ancient ways of the most famous warriors in history.
With a combined 35 years of experience, their show is a unique blend of history, combative skill, and humor, designed to educate and entertain audiences both large and small.
Beyond their martial skills, the dynamic duo collaborated to write, direct, host, and star in a 12 episode TV series entitled, "The Way of The Samurai."
Daniel is also an author, with several martial art articles published, and is currently working on his second full-length novel.
Past guests:
Guests 2015
-
Guests 2014
-
Guests 2013
-
Guests 2012
Guest appearances are subject to change.